Boosting Teacher Well-being
After 30 years of doing such work, I have concluded that classroom teaching…is perhaps the most complex, most challenging, and most demanding, subtle, nuanced, and frightening activity that our species has ever invented…The only time a physician could possibly encounter a situation of comparable complexity would be in the emergency room of a hospital during or after a natural disaster.

Shulman, L. (2004). The Wisdom of Practice: Essays on Teaching, Learning, and Learning to Teach. San Francisco, CA: Jossey-Bass.
If life is a race, it sometimes feels like I'm sprinting down a mountain, on the verge of exhaustion, trying to avoid being squashed by falling rocks, and regretting the donuts and chocolate milk I had for breakfast.
Early learning professionals wear many hats and go by many names – teacher, provider, caregiver, just to name a few. It's this last term that has our team at Leap asking how we can help care for our vital caregivers. How can we help them care for themselves? How can we work with them and other stakeholders to care for one another?
RECHARGE is our effort to identify and share tips, techniques, and tools to boost teacher well-being. We believe our early learning workforce is most effective when professionals are healthy and whole – doing the job they love, having the support they need, growing and sharpening their skills, and leaving a legacy of positive relationships and experiences in the lives of all of our children.
As we do with all of our professional development resources, we've combed through dozens of the best sources on the subject, and there is consistent agreement on what is needed to keep a workforce insulated from burnout and to help individuals who've been experiencing burnout, or overwhelming and persistent stress, make productive moves toward improved personal well-being.
If you or someone you know is struggling or in crisis, there are people who can help you. Please call or text 988 or go to 988lifeline.org where you can find more information and even chat with someone 24 hours a day.
Use the buttons below to learn more about the steps you can take to give yourself a boost and to help others, as well.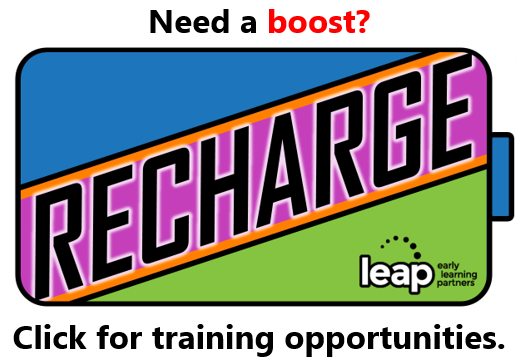 Leap Early Learning Partner RECHARGE content is for informational and educational purposes only. Our website is not intended to be a substitute for professional medical advice, diagnosis, or treatment. Always seek the advice of your physician.